Manchester has been hosting Pint of Science since 2015 and has grown to be one of the largest festival cities outside of London. With over 20 events and almost 1000 attendees this year alone, we are incredibly proud to be spreading the word… and the word is SCIENCE!
This year, we want to try something a little different. Alongside our events we will be providing you with a running commentary on how we organise the festival. We'll be introducing you to our teams, providing snippets of what you can expect from our speakers and talking to our many and varied venues. All of this with a view to demystifying the process by which a successful festival is brewed. Who knows, perhaps it might inspire you to get involved yourself one day…
Planning Pint of Science takes a lot of hard work and despite our huge team of volunteers; it can still get a little hectic, particularly in the run up to the big day. But when there's a pub full of people all wanting to learn more about science, the final product makes it all worthwhile (having a pint in hand also helps calm the nerves…). Most of our attendees only get to our final polished product, but in this blog we want to provide a behind the scenes 'all-access pass', an insight into how we achieve those fantastic three days in May.
So let's start at the beginning. My name is Khadisha and I'm a third year PhD student with the Department of Chemistry, here at the University of Manchester. This will be my third-year volunteering with Pint of Science. Every city that participates in Pint of Science takes their own spin on it, choosing to run different combinations of themes and even running events outside of the main festival. When I first joined my role was as part of the 'one-off events' team and I was team leader for our 2018 launch event. Last year I took on a little more (okay a lot more…) responsibility and co-coordinated the entire Manchester 2019 Pint of Science Festival, alongside my fantastic fellow coordinator James. It was a brilliant experience that I am so glad to have done, but I can tell you more about that another time.
This year the coordinator baton has once again been passed on, which brings me to some further introductions. Oli and Si: Manchester's 2020 Pint of Science coordinators.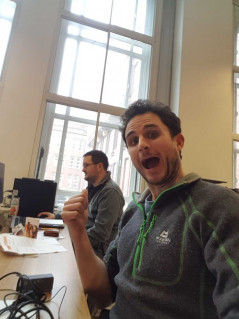 Si (Left) and Oli (Right), Manchester's 2020 Pint of Science coordinators.
Oli and Si both volunteered as part of our 2019 team - they are good friends and are both PhD students with the Department of Materials at the University of Manchester researching materials for demanding environments. Oli works on improving the zirconium alloy cladding of fuel rods in nuclear reactors in order to reduce the formation of hydrides (this is what happens when zirconium combines with hydrogen, and it acts as a hardening agent). Formation of hydrides currently increases the rate of their degradation. Si studies coatings to prevent oxidisation for high temperature ceramics in turbine engines; this is a reaction between the coatings with the oxidants present in the hot gases and causes corrosion. Improving these coating would allow for faster and more efficient engines. I asked them both why they got involved in Pint of Science. Oli told me that, being new to Manchester, he wanted to use it as an opportunity to socialise and meet likeminded people. Si had a somewhat funnier story; he told me how when attending a Pint of Science event the year before, someone mistook him for an organiser, which made him think "maybe I should be organising these events!".
They are shaking things up a little this year. As well as the usual volunteer drive, which is taking place right now (email [email protected] if you're interested in taking part this year!), they also intend to recruit more volunteers after Christmas. This is the best time to do it, as inevitably there's a little bit of dropout from the first recruitment wave, and we also find that as the year goes on more people tend to hear about Pint of Science through word of mouth. Previously, we have signposted people to sign up for the following year, but Oli and Si believe that by having a second volunteer run we could actually solve two problems with one stone!
Another one of this year's goals is to have a larger representation of STEM in industry. Oli and Si are hoping to organise nights with both researchers in industry and academia to show audiences exactly how scientific results are applied to the real world, and maybe start a few debates too!
Having both been volunteers before, I asked them why they think people should sign up to volunteer. Oli summed it up perfectly, "it's good fun". Speaking from experience it really is! Si also addressed a concern I imagine a lot of Pint of Science volunteers have: the time commitment. "It's not that much stress if you manage it well". Excellent time management is certainly one of a bounty of skills you get from volunteering with Pint of Science.
So often people get scared off by this idea of 'science being serious', but the truth is that a lot of the time it's also great fun! We love our jobs and we want to share that passion with people. Their overall advice to anyone wanting to get involved was to "enjoy it!". So, maybe you've seen the end product before or perhaps you're new to our Pint of Science community. Whoever you are and wherever you've come from, we invite you to join us on our journey to Manchester Pint of Science 2020. Check back for more updates!