Rosalind Heron
Comms Manager
Currently working as a postdoctoral researcher in the University of Edinburgh to understand the effects of chronic inflammation in neurodegenerative diseases, I enjoy showing children and adults how fun and interesting science can be.
Helen Jones
Database & Website Manager
I am a post-doc at UCL researching liver disease. I want science research to be fun and accessible to everyone so am very happy to be a part of Pint of Science. Beyond science, my passion is horses and I am a regular volunteer at a charity riding centre in central London.
Annemarie Pickersgill
Chapter Manager - Scotland
I am a post-doctoral researcher studying meteorite impact craters. I'm interested in space and space exploration, and combining this with a passion for the outdoors by participating in analogue space missions, during which I pretend to be exploring another planet while in fact exploring our own.
Pierre-Philippe Dechant
Chapter Manager - Yorkshire & the Humber
I am a Senior Lecturer in Mathematical Sciences at York St John University, designing Maths and Data Science degree programmes. I work on symmetries and/of/or viruses, using mathematical and computational techniques. I like interdisciplinarity, outreach, engagement and pubs!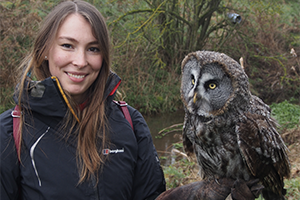 Lucy Manifold
Chapter Manager - NW England & Wales
I recently handed in my PhD in geology at the University of Manchester and I am now working as a geoscientist. I've traded city life for North Wales and loving living near mountains and sea.
Galen Reich
Chapter Manager - West Midlands
I'm a PhD student in Electrical Engineering at the University of Birmingham and my research is focused on biologically-inspired radar systems that work at the cusp of Physics and Psychology. In my spare time I tinker with electronics, build drones, and enjoy a pint at the pub!
Cristina Perez
Chapter Manager - East Midlands
A chemist and neuroscientist by training, through my experience I've become more interested in getting involved in different ways of communicating scientific research to a wider audience and I'm very excited to be part of this amazing festival again.
Jay James
Chapter Manager - South East
PhD researcher in Infection, Inflammation and Immunity. Last year I was dragged to a PoS meeting and convinced to organise a Planet Earth event where I saw the impact of PoS and the passion people have for this festival! I am excited to be more involved as a coordinator for 2019.
Team Podcast
Presenting and Production Team
Callam (middle) helps run Pint of Science while Jim (right) presents alongside his day job at London Business School. Producer Sam Datta-Paulin (left) is a former BBC Commissioner. He now runs his own station, Glorious Republic Radio.
Anna Gould
Advisor
I've made the transition from academia to the corporate world and now simulate robots. Science is inescapable! (And beer helps!)
Isobel Massie
Advisor
A research scientist currently based in Germany, I've been working on tissue engineering various parts of eye. I've been involved with Pint of Science for a few years now & really enjoy it as it combines two of my favourite things - pubs and science!