Phil Bell-Young
City Coordinator
Phil is a Science Communicator and Outreach Officer for the University of Hull. He spends most of his time organising projects (i.e. Hull FameLab and Soapbox Science) and presenting science-based entertainment at events like TED Ex Hull or busking with the Hull Street Scientists.
Dr Kat Sanders
Organiser
Kat is a Lecturer in Clinical Anatomy at HYMS. A passionate science communicator, Kat shares her love for anatomy through many platforms and has set up her own event series, Anatomy Nights. In 2015, she organised the first Pint of Science in Newcastle, Australia and is at it again, this time in Hull
Joe Wood
Organiser
Michelle Kinnon
Organiser
Michelle is a 2nd year PhD student with the British Heart Foundation. She's working on developing a platelet specific imaging agent for use in treating cardiovascular disease. She's been involved with Scicomm for 2 years now and is looking forward to combining her two favourite pastimes!
Susan Hornby
Organiser
Susan's job at The Deep is Head of Education and Community Engagement. The Deep is a registered charity and aquarium based in Hull dedicated to understanding and protecting the marine world.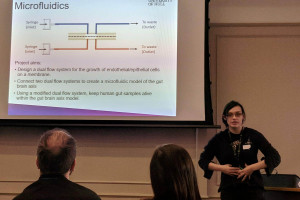 Lydia Baldwin
Venue Assistant
Lydia is a PhD student within the University of Hull microfluidics group. She is developing a lab on a chip device using gut tissue. Outside of research she enjoys Scicomm and has been involved with the Hull Street Scientists Busking Group.