Michelle Kinnon
City Coordinator
Michelle is a 3rd year PhD student with the British Heart Foundation. She's working on developing a platelet specific imaging agent for use in treating cardiovascular disease. She's been involved with Scicomm for 3 years now and is looking forward to combining her two favourite pastimes!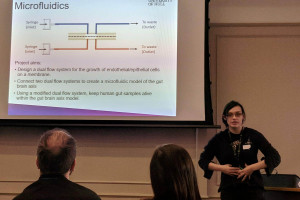 Lydia Baldwin
Tech Me Out Manager
Lydia is a 3rd year PhD student within the University of Hull microfluidics group. She is developing a lab on a chip device using gut tissue. Outside of research she enjoys Scicomm and has been involved with the Hull Street Scientists Busking Group.
Dr Josh Ahmed
Planet Earth Manager
I'm an environmental scientist interested in understanding how meandering rivers evolve, how rivers may have formed on Mars, and how we can work with nature to reduce flood risk and strengthen future food security. I also like beer, so why don't we have one over a pint of science?
Miss Sabrina Samuel
Our Body Manager
I'm a third year PhD student at the University of Hull investigating brain tumours and their response to various treatments. Being a final year student, my life currently revolves around samples and cell death assays, and so I am very excited to be part of something so different and engaging!