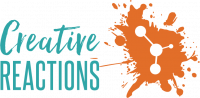 Creative Reactions is a collaboration between artists and Pint of Science scientists to produce artworks related to the science presented during Pint of Science. It was started in Cambridge during Pint of Science 2015 and proved a major success.

Click here to download Creative Reactions 2019 Cambridge booklet
Cambridge Creative Reactions 2019 Video by Oscar Peake @oscarpeakevideo
Creative Reactions has spread to a number of cities. Each event has a different format - some following a traditional Pint of Science evening and others full art exhibitions with the artwork for sale. See below for links.
You can find Creative Reactions on social media:
Instagram: @creativerxns
Twitter: @creativerxns
Facebook: @creativerxns
Creative Reactions Events
No available events for selected city. Please check back later.